---
February, 13 – April 21, 2013 : FIRST BOOK; State Museum « Tsaritsino » – MOSCOW
---

FIRST BOOK
International Project « Pervaja Kniga (FIRST BOOK) »
State museum "Tsaritsino" (Moscow, Russia) 02/12-04/21.2013
Organizer – International Association "Artist's Book"
Curators: Viktor Lukin, Mikhail Pogarsky, Vasilij Vlasov,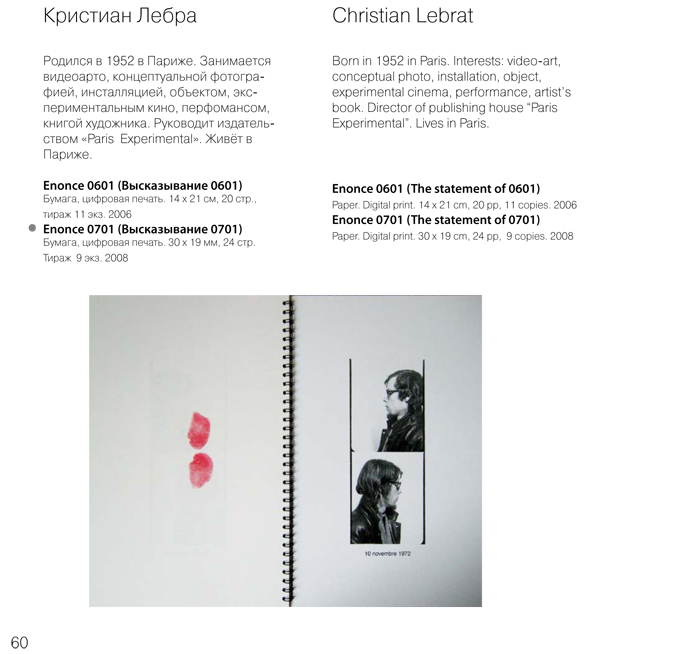 The book as an individual form of art has always attracted the attention of many artists. As a medium it offers the artist the opportunity of defining his own boundaries of the book format, which he creates. The Artist's book owns – in addition to its basic ideas and contents – a unique sculptural form of art and its own internal space.
The project « First Book" is an opportunity for artists working in different genres, styles and directions – regardless of whether or not they ever engaged in the creation of a book – to create their « First Book » in the genre of « artist's book ».
For those who have never created an author of books be a real one, and try to create your image first book for those who do it. The understanding of the context of the project « First Book » is diverse – this can be the first book for children, the first in any technical or other embodiment, and the first as a carrier of the alphabet or signs or the first Book of books.
Each author had the complete freedom as regards to choosing format and technique, and created an own image or shape of the book, as in the traditional sense or implementing free constructive or stylistic approaches: created book art or an art object, a media object, simply a book or a sculpture, bookworks, utilizing any techniques and methods, both from modern and from classical art.
More than 200 artists from Russia, England, Italy, USA, France, Spain, Germany, Austria, Finland, Ukraine, India, Egypt, Turkish, Jordan, Hungary took part in the project.
More information at www.pogarsky.ru