---
NOVEMBER 23, 2012 – JANUARY 20, 2013 : EKATERINA CULTURAL FOUNDATION
---

JOHN CAGE. THE SILENT PRESENCE
Ekaterina Cultural Foundation, November 23, 2012 – January 20, 2013
Organizer: The National Center for Contemporary Art (NCCA) 

Curator : Vitaly Patsyukov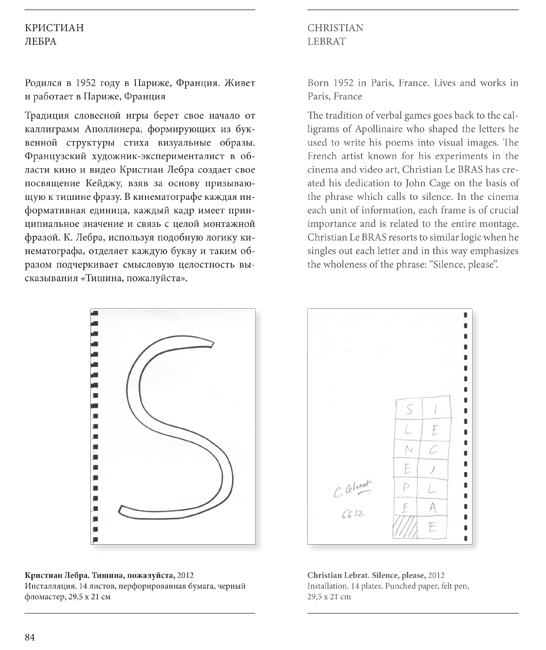 "John Cage. The Silent Presence" exhibition project, implemented in the year of the composer's centenary by the NCCA in cooperation with John Cage Trust (USA) is a part of a wider international celebratory program.
The exhibition presented at the Ekaterina Cultural Foundation is dedicated to the influence of Cage's ideas and experiments on artistic culture. The exposition traces the development of the most important principles of John Cage's work in contemporary art – performativeness, the method of random action, seriation etc.
Presented authors:
Ekaterina Cultural Foundation: Gianfranco Baruchello, Dmitry Gutov, Marcel Duchamp, Vadim Zakharov, Martin Zet, Ilya Kabakov, Merce Cunningham, Marco Fidel di Catrano, Sergey Katran, John Cage, Vyacheslav Koleychuk, Christian Lebrat, H. H. Lim, Vladimir Martynov, Andrei Monastyrsky, Irina Nakhova, Dmitry Prigov, Robert Rauschenberg, Hans Richter, Kirill Serebrennikov, Viktor Skersis, Vladimir Smolyar, Vladimir Tarasov, German Titov, Leonid Tishkov.
http://www.ekaterina-fondation.ru/eng/exhibitions/2012/cage/