---
Installations
---

---
2012 -Drapeaux [Art No Art]
1 Drapeau en toile avec tige métallisée.
[Space No Space]
80 x 120 cm
Installation : Projekt Fabrika, exposition Inside_Frabrika_Outside, Moscou, juin 2012.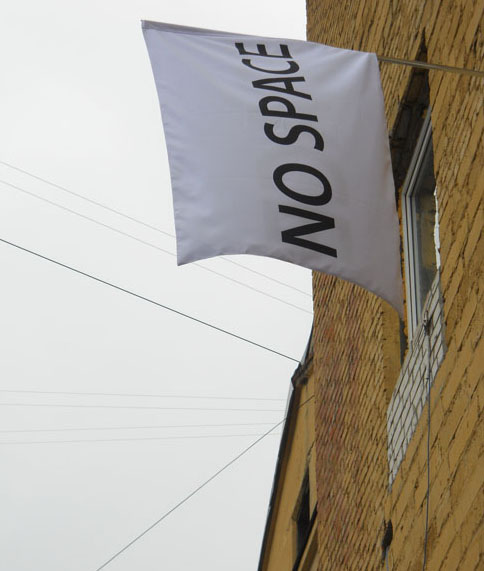 8 Drapeaux en plastique rigide avec tiges.
[Power No Power] – [Critic No Critic] –   [Order No Order] -[Word No Word] – [System No System] – [Form No Form] – [Art No Art] – [End No End]
60 x 80 cm
Installation : Projekt Fabrika, exposition Inside_Fabrika_Outside, Moscou, juin 2012.
Installation permanente au CCI Fabrika :
http://www.facebook.com/photo.php?fbid=484257711599460&set=a.484257261599505.115358.125491260809442&type=1&theater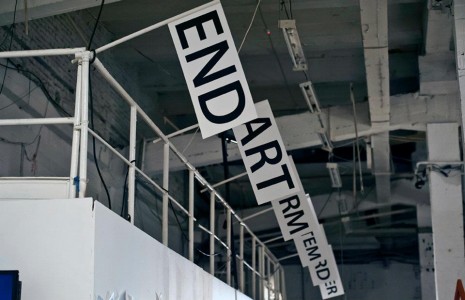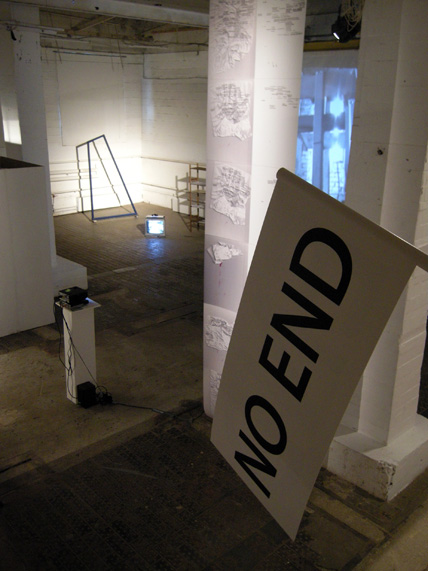 […] Project Fabrika (Rus. Factory) is the only site where, until recently, a big machine used to operate, where the spaces still bear the traces of Fabrika's mileage.
The project INSIDE FABRIKA OUTSIDE suggests bringing Fabrika back to the factory, thus redefining its institutional space. It addresses the question of interaction of Fabrika's space, which inevitably turns into a tenants' space, and the space of contemporary art. Another most pressing issue is that of boundaries: where is the borderline between art and non-art, between its critical potential and its territory, which, while losing its designation, loses this potential as well.
… The critical potential of contemporary art is called into question by the French artist Christian Lebrat: in his view, it is impossible to accurately determine the flag of an ideological brand neither of the critic, nor of his opponent, the artist, while the space of art, on the other hand, turns into non-art. Any slogan may lose power, but the action against total control under the symbolic flag of anarchism will always be an action of rethinking social space, while its component – the artist's field of action – will stay there as a dichotomy of the site and non-site of art.
In his installation Red and Black, the very form of the curtain marks the space behind the curtains as closed. It is both a boundary and a threshold, and the red color refers to the traditional association with the avant-garde signs, to red as a color of maximum expression in painting, while the question of impossibility of painting is reduced to a radical boundary between painting and non-painting, and black – to the issue of possibility / impossibility of representation, set forth by the avant-garde in the early 20th century. At the same time, the curtain is an everyday object; taken out from its context, it redefines the artwork space, desacralizes the white cube, and destabilizes the traditional exhibition space. The red-and-black combination of colors reminds us of anarchy, therefore, Anarchitecture and anarchist ethnographers appear to be introduced into the general context of the exhibition by this warning sign.
Natalia Smolianskaya, "Inside Fabrika Outside", in the homonymous catalog, Moscow, 2012
---
2012 – Le Rouge et Le Noir
Rideau suspendu.
250 x 800 cm
Installation : Projekt Fabrika, exposition Inside_Frabrika_Outside, Moscou, juin 2012.
Photo : Alexander Gorshkov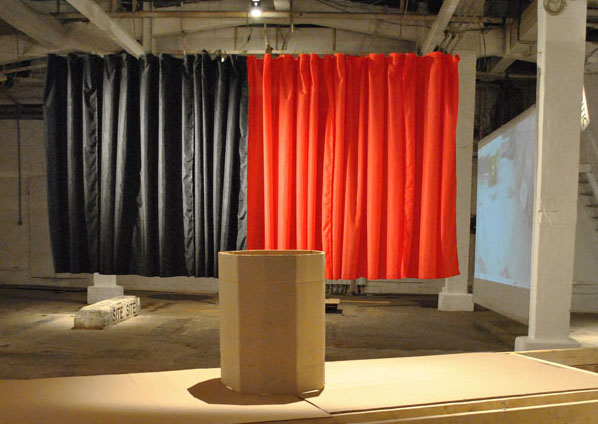 ---
2011 – Silence (Rouge-Jaune-Bleu)
Rideaux de coton– tringles (non visibles) – environnement noir.
Fabric curtains – rods – black area.
Installation : Le Pavillon – Pantin, du 29 septembre au 20 octobre 2011.
280 x 750 cm
Photos : Vincent Bossard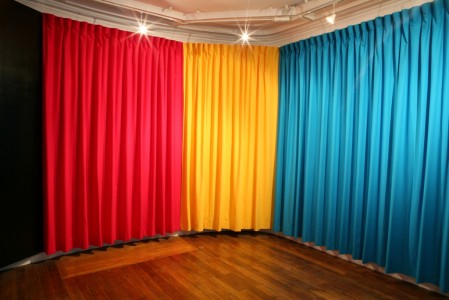 ---
2009 – R1R2R3R4 (Who's afraid of…)
Rideaux de tissus – tringles – ruban adhésif au sol
Fabric curtains – rods – tape on the floor
Installation : Ryerson School of Image Arts Gallery, Toronto, March 9–14, 2009.
Sewing and installation by Dan Browne, Kelly Egan, Angela Joosse, Aleksandra Kaminska, Erika Loic, Shana MacDonald, Eva Nesselroth-Woyzbun, Ajla Odobasic, Izabella Pruska-Oldenhof, Jason Rovito, Tyler Tekatch.
Photos : Rekha Ramachandran
© 2009 Christian Lebrat
---
R1 (Who's afraid of…)
Polyptique
Rideau de tissus assemblés et cousus – tringle
Dim: 200 x 500 cm
Photo : Rekha Ramachandran
© 2009 Christian Lebrat
---
R2 (Who's afraid of…)
Triptyque
Rideau de tissus assemblés et cousus – tringle
Dim: 220 x 400 cm
Photo : Rekha Ramachandran
© 2009 Christian Lebrat
---
R3 (Who's afraid of…)
Rideau de tissu – tringle
Dim: 175 x 175 cm
Photo : Rekha Ramachandran
© 2009 Christian Lebrat
---
R4 (Who's afraid of…)
Rideau de tissu – tringle
Dim: 220 x 115 cm
Photo : Rekha Ramachandran
© 2009 Christian Lebrat
---